Welcome to the Stanton Guest House
The Stanton Guest House & Concert Hall is the newest and finest boutique hotel in Natchez! Featuring 6000 square feet of beautifully-renovated elegance, including a Concert Hall that seats 50, the Stanton Guest House is sure to become Natchez' most popular new destination! Walkable to everything downtown, and located just a few blocks from the Mississippi River and Main Street, just across the street from historic Stanton Hall and the world-renowned Carriage House Restaurant.
"A must book if visiting Natchez. The setting and location are great. The bed is super comfortable, and the suite is one of the coolest I have stayed in. "
"Beautiful place and you will not be disappointed! Close to everything and a short walk to the river. We can't wait to come back to this paradise near the 'Sip!' "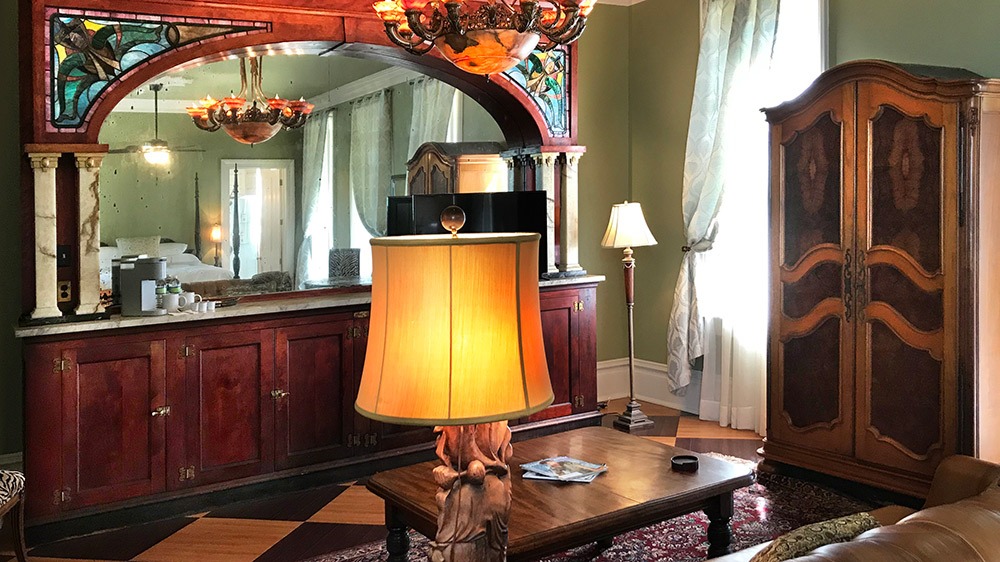 Frederick Stanton Suite
Our finest room is possibly the largest master bedroom of any mansion in Natchez. Spacious and luxurious, with its own private entry just off the Courtyard garden.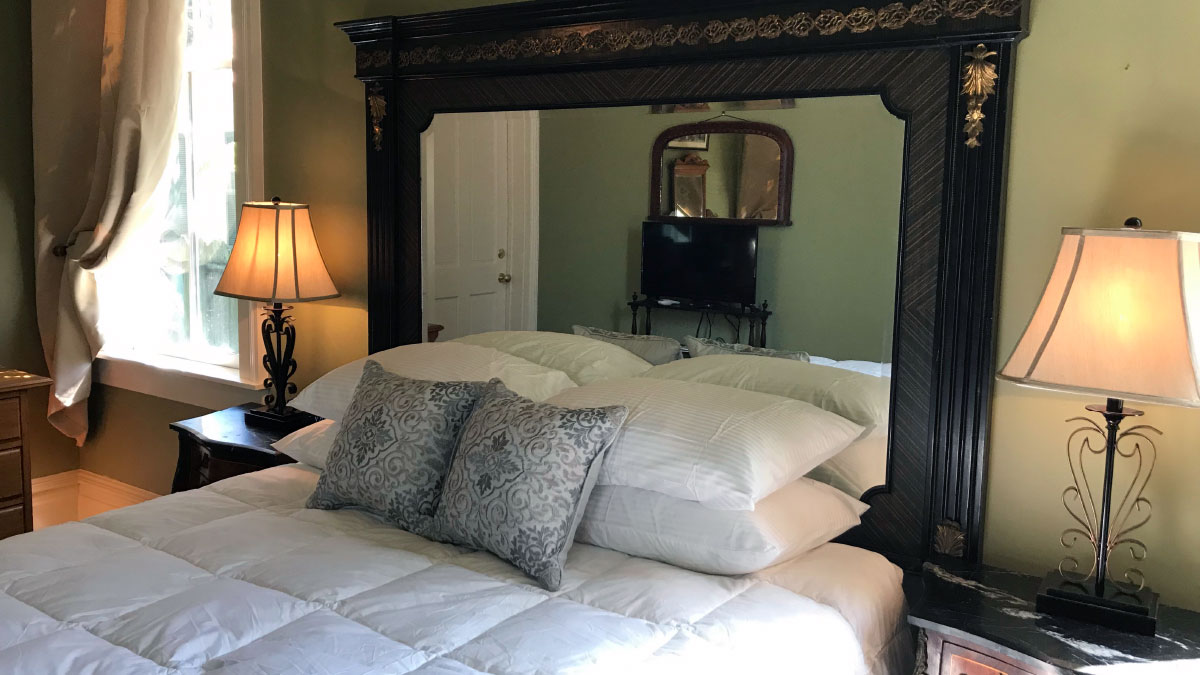 Varina Stanton Suite
A luxurious Queen-sized Bed with a unique, antique mirrored headboard and plush linens. Includes a a private bathroom with vintage pedestal sink & glass shower.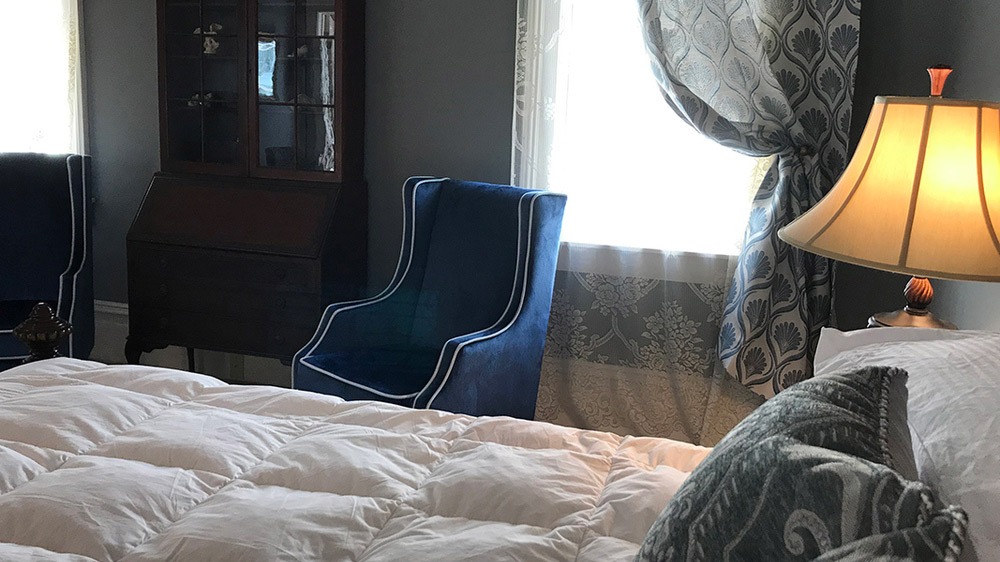 Belfast King Suite
Easily another "master bedroom", and featuring a luxurious King-sized bed, spacious private bathroom with large walk-in closet and a large jacuzzi tub and shower.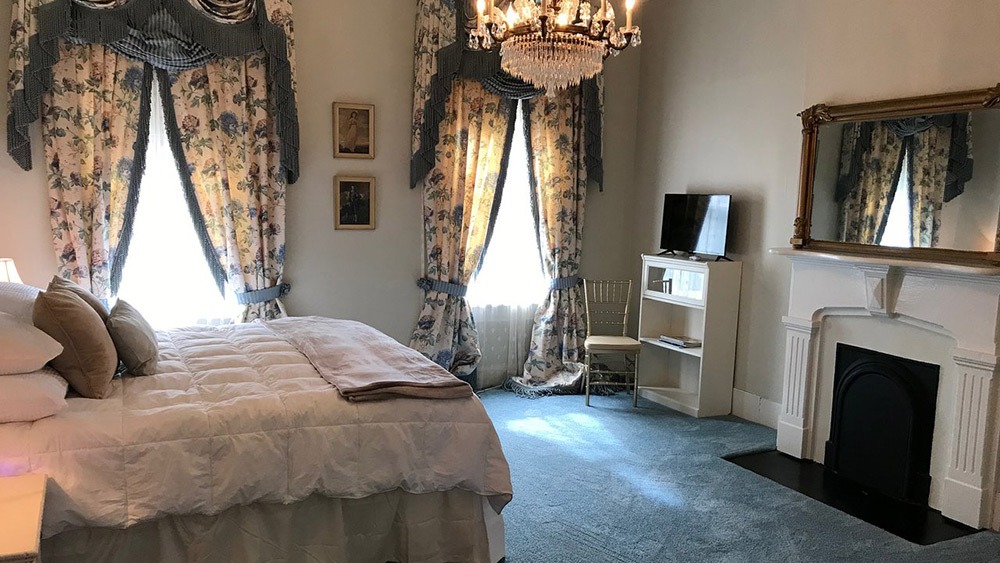 Elizabeth Stanton Suite
Beautiful and elegant, this spacious second-floor room holds a lovely chandelier, comfy King-sized bed, as well as a large bathroom with tub/shower, closet and dressing area.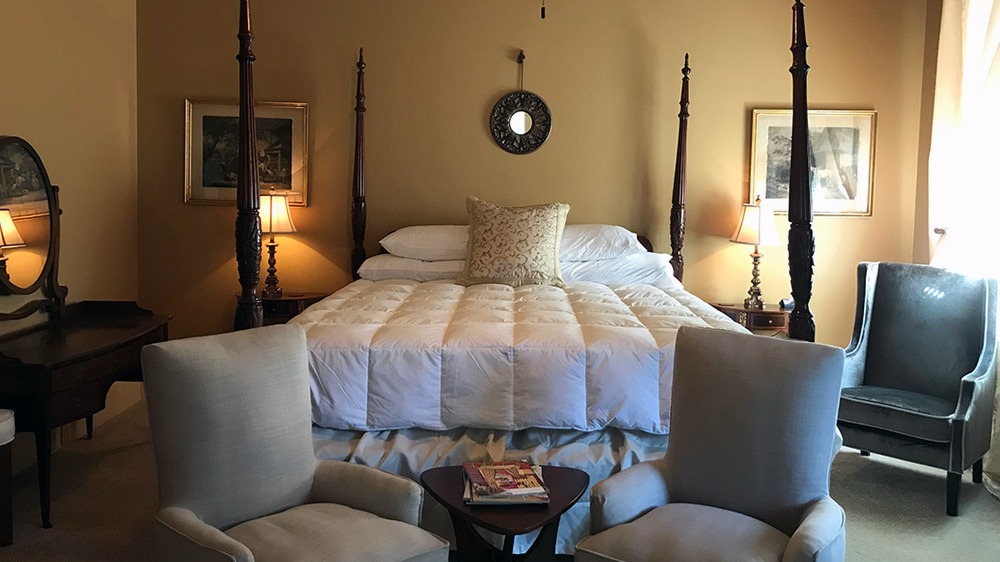 Hulda Stanton Suite
This elegant bedroom features a King-sized Four Poster bed, a large private bathroom with 2 closets & marble double vanity, tub and shower.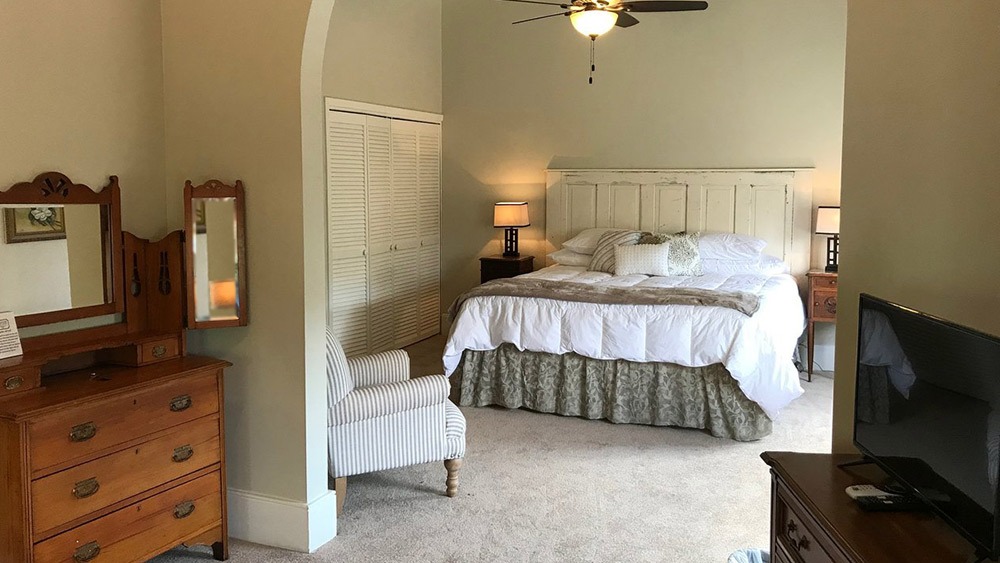 Thomas Stanton Suite
Located up on the mansion's second floor, the Thomas Stanton Suite is one of our most spacious rooms, featuring a King-sized bed with antique door headboard.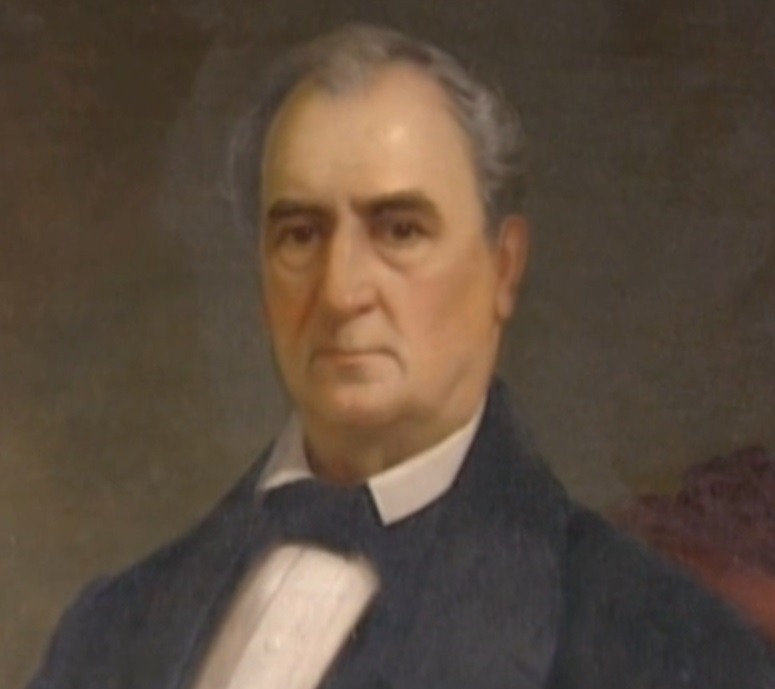 Built in 1892, in view of Stanton Hall, Natchez' most palatial mansion, The Stanton Guest House is a lovely Italianate Mansion, offering five private suites – one of them a two bedroom suite – each with private bathrooms and lush, elegant appointments. Each of the suites is named for a member of the Stanton Family – and each one is truly unique. At the heart of the mansion is a fully-enclosed New Orleans Courtyard.
Frederick Stanton was born in Belfast, Ireland in 1794 and made his way to Natchez in 1815, where he quickly made his fortune as a cotton broker. As one of the region's wealthiest men, Mr. Stanton built Stanton Hall in the 1857. Sadly, shortly after moving into his new mansion, Frederick Stanton passed away, leaving his wife and children to live in the home they had named "Belfast" without him. His wife, Hulda Stanton, lived until 1894, and they had three children.
As a tribute to the Stanton family, our suites are named for the Stantons, and Belfast, the original name given to Stanton Hall.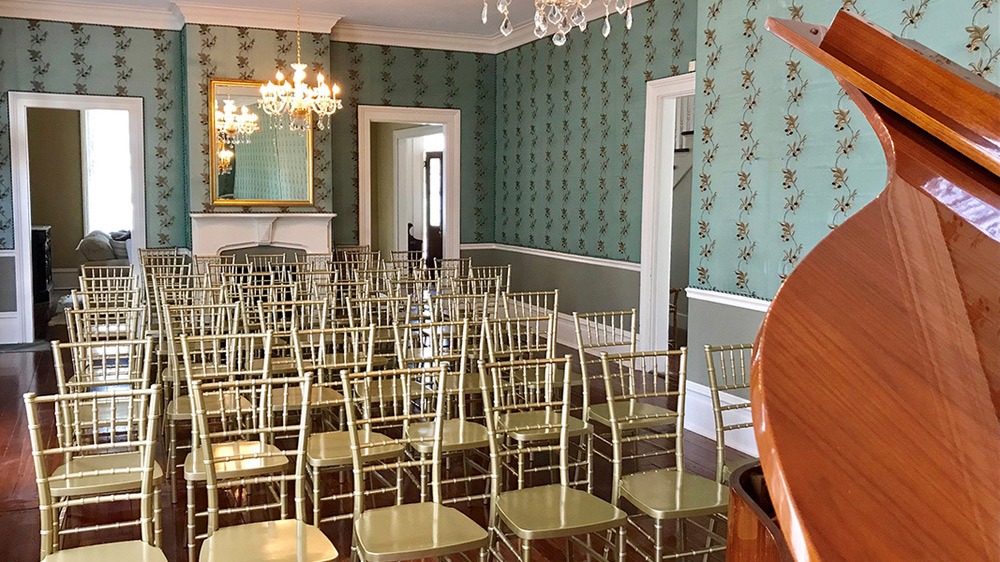 Available for concerts, recitals and small events, the Concert Hall at the Stanton Guest House is located in the mansion's beautiful ballroom.
Seating around 50 guests, the Concert Hall is complete with silk wall coverings, gold chandeliers, lovely gold chairs, a grand piano, and views of the New Orleans Courtyard. 
Looking to book your next performance? Please email us for more information and details.
Our Amenities
The Stanton Guest House is a small boutique hotel featuring all of the luxurious amenities one would expect. We offer self-check-in with instructions provided to you at time of booking.
While our discounted rates do not include breakfast, you can find great breakfast options are just a few blocks away!
Fine Bed Linens
Feather Pillows
Luxurious Towels
Complimentary Beverages Upon Arrival
Satellite TV
Free Wifi
Hair Dryers & Other Essentials
Private Bathrooms in Every Suite
Elegant Ballroom with Garden Views
A Grand Piano
Books and Current Magazines for Days!
Front Porch and Garden Seating – a Retreat from the World!
Wedding and Special Event Facilities for small groups
Pet Friendly! Polite pets welcome; $10 per Pet, per Night Deposit applies
Cancellation Policy
Full payment is collected at the time of booking. Cancellations are allowed up to two weeks prior to each stay, and a full refund will be issued.
Due to high demand, cancellations within two weeks of one's stay shall not be refunded.
You want the INNside scoop? Get tips from the locals, the latest on new entertainment happenings, details on the hidden spots that only the locals know about, lessons on Southern culture, and some history on our properties.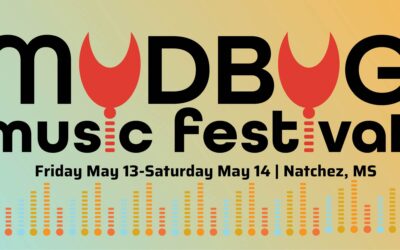 Don't miss the 2nd annual Mudbug Music Festival as it returns to the Bluff! This year, the organizers have expanded it into a 2-day event, will a full roster including incredible live music, an endless supply of C&M Crawfish, and a wide assortment of regional food...
read more