Book Your Stay With Us
Take Advantage of This "Suite" Deal: 
Call or Text to Book Now
Plan Your "Unforgettable" getaway today: Contact us at 601-443-7664 by either phone or Text.
We would love to see you at The Stanton Guest House! Walkable to everything downtown, and located just a few blocks from the Mississippi River Bluff and Main Street, just across the street from historic Stanton Hall and the world-renowned Carriage House Restaurant. Use the Calendars below to see available days at the Stanton Guest House & Concert Hall. We offer self check-in, with instructions provided to you upon time of booking.
The Stanton Guest House & Concert Hall
6 Suites • 411 N. Commerce Street
Check-in Date:
May 2022
June 2022
Suites
Frederick - King
Hulda - King
Varina - Queen
Belfast - King
Elizabeth - King
Thomas - King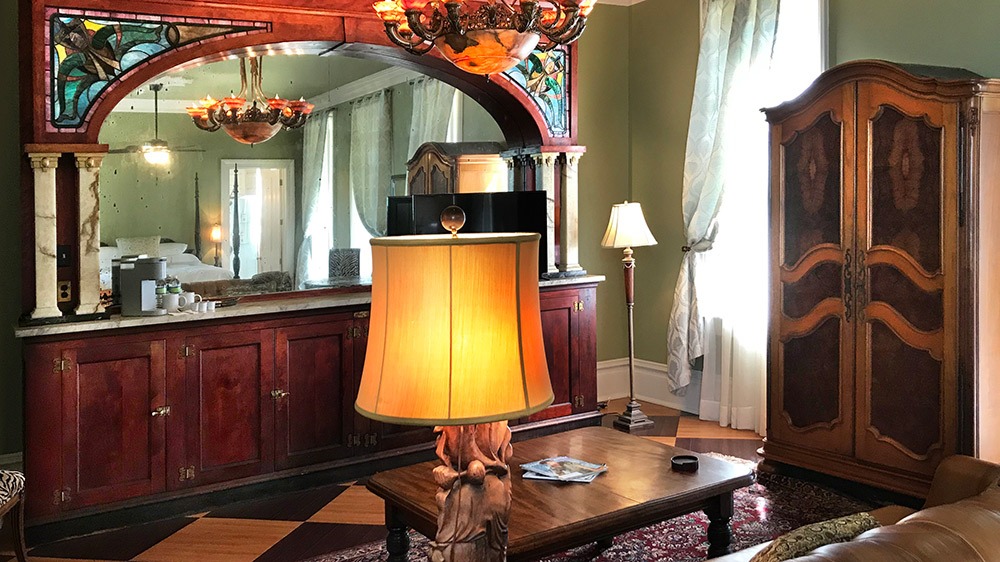 Frederick Stanton Suite
Our finest room is possibly the largest master bedroom of any mansion in Natchez. Spacious and luxurious, with its own private entry just off the Courtyard garden.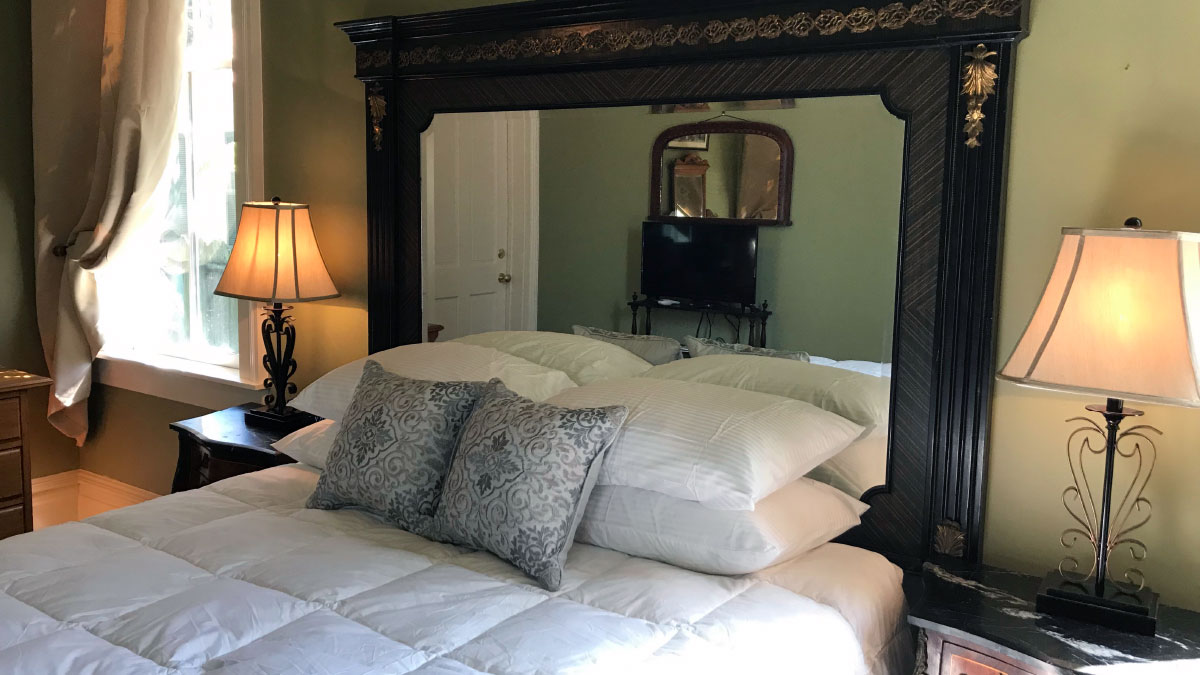 Varina Stanton Suite
A luxurious Queen-sized Bed with a unique, antique mirrored headboard and plush linens. Includes a a private bathroom with vintage pedestal sink & glass shower.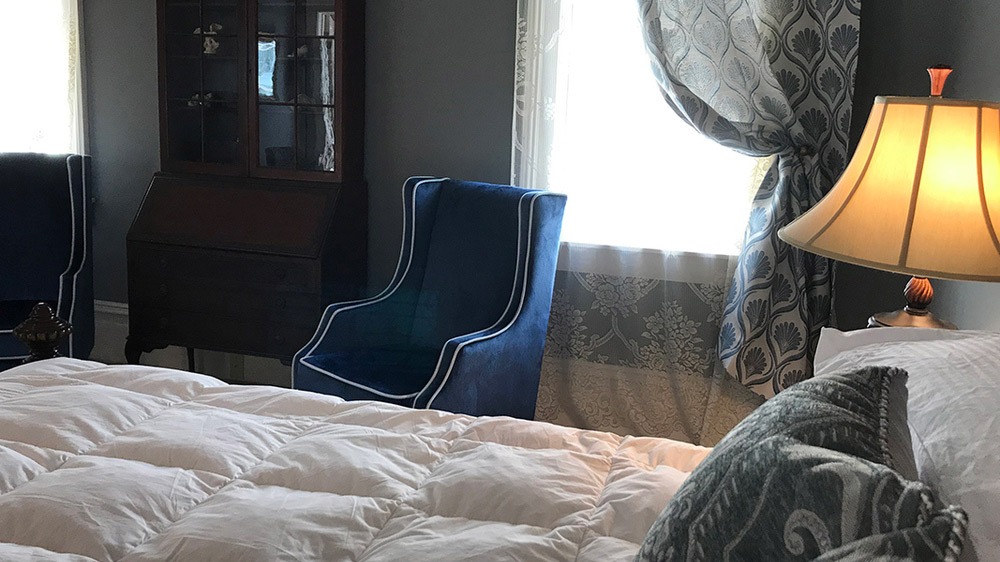 Belfast King Suite
Easily another "master bedroom", and featuring a luxurious King-sized bed, spacious private bathroom with large walk-in closet and a large jacuzzi tub and shower.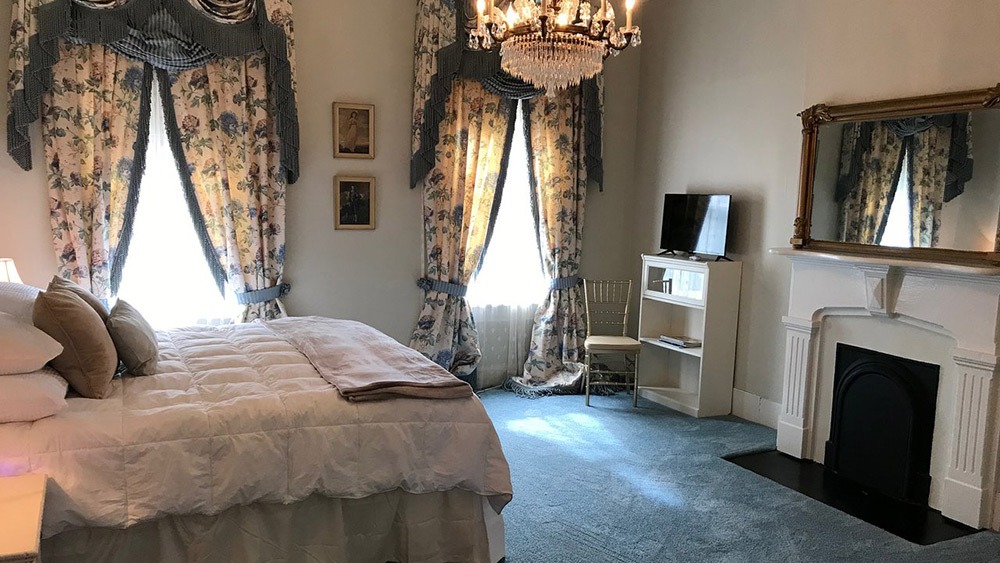 Elizabeth Stanton Suite
Beautiful and elegant, this spacious second-floor room holds a lovely chandelier, comfy King-sized bed, as well as a large bathroom with tub/shower, closet and dressing area.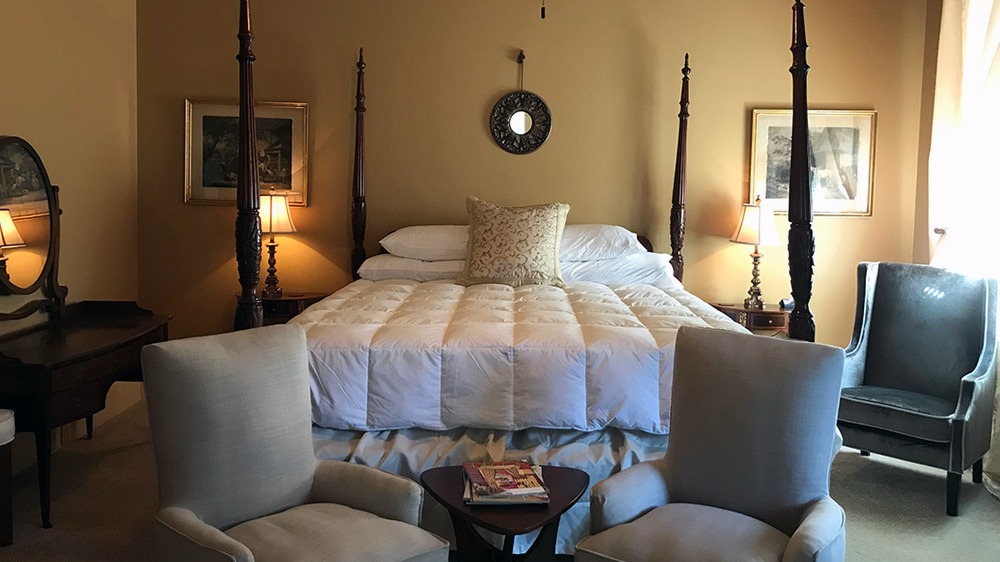 Hulda Stanton Suite
This elegant bedroom features a King-sized Four Poster bed, a large private bathroom with 2 closets & marble double vanity, tub and shower.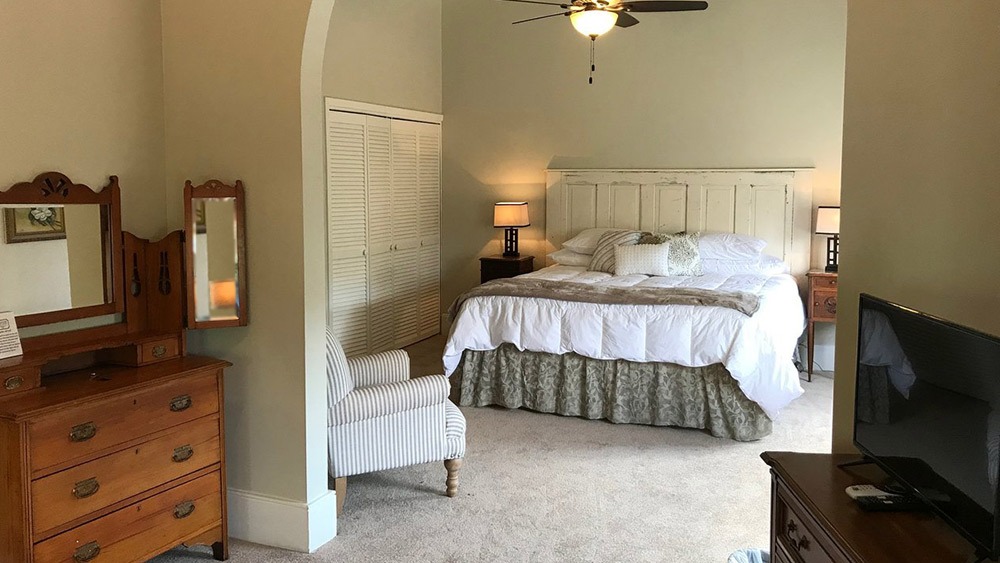 Thomas Stanton Suite
Located up on the mansion's second floor, the Thomas Stanton Suite is one of our most spacious rooms, featuring a King-sized bed with antique door headboard.
"A must book if visiting Natchez. The setting and location are great. The bed is super comfortable, and the suite is one of the coolest I have stayed in. "–
Barrett on AirB&B
"Beautiful place and you will not be disappointed! Close to everything and a short walk to the river. We can't wait to come back to this paradise near the 'Sip!' "–
David on AirB&B
Our Amenities
The Stanton Guest House is a small boutique hotel featuring all of the luxurious amenities one would expect. We offer self-check-in with instructions provided to you at time of booking.
While our discounted rates do not include breakfast, you can find great breakfast options are just a few blocks away!
Fine Bed Linens
Feather Pillows
Luxurious Towels
Complimentary Beverages Upon Arrival
Satellite TV
Free Wifi
Hair Dryers & Other Essentials
Private Bathrooms in Every Suite
Elegant Ballroom with Garden Views
A Grand Piano
Books and Current Magazines for Days!
Front Porch and Garden Seating – a Retreat from the World!
Wedding and Special Event Facilities for small groups
Pet Friendly! Polite pets welcome; $10 per Pet, per Night Deposit applies
Cancellation Policy
Full payment is collected at the time of booking. Cancellations are allowed up to two weeks prior to each stay, and a full refund will be issued.
Due to high demand, cancellations within two weeks of one's stay shall not be refunded.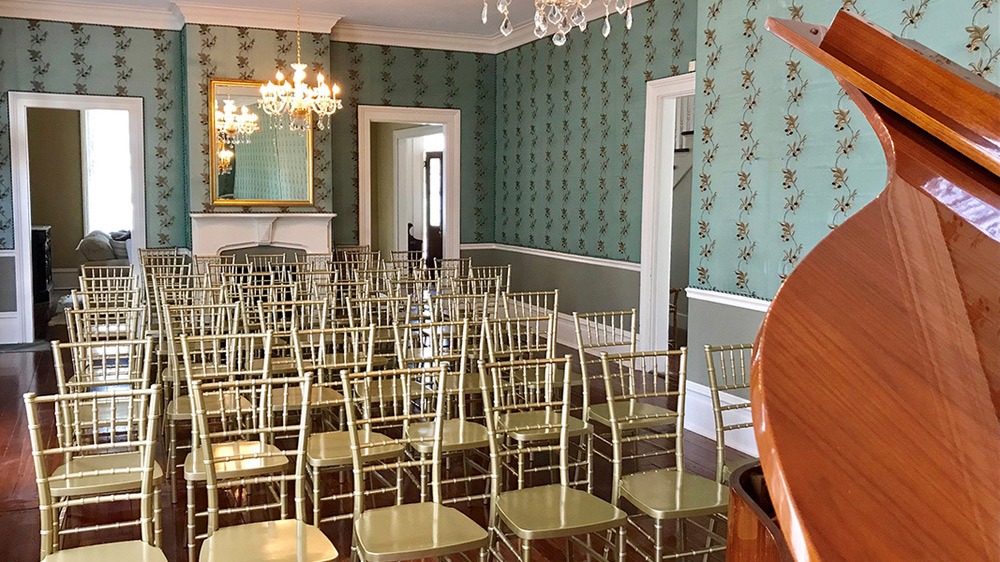 Available for concerts, recitals and small events, the Concert Hall at the Stanton Guest House is located in the mansion's beautiful ballroom.
Seating around 50 guests, the Concert Hall is complete with silk wall coverings, gold chandeliers, lovely gold chairs, a grand piano, and views of the New Orleans Courtyard. 
Looking to book your next performance? Please email us for more information and details.